かりん (Karin)
2009.06.03 Wednesday
中学の頃からの付き合いの友達がいる。
最近みな結婚したり、子どもが出来たりで
自分が大人になったんだなぁということをヒシヒシと感じさせられる。
大人になったというか、子どもがいて当たり前の年になったんだなぁ、と。
I have very good friends I've known since middle school period (12 -15 years old).
Some of them have got married, got babies recent years.
It reminds me of my age and make me think that I am actually an adult as well...
Without these constant reminders, I often forget that I am now almost 30 years old.
But I really feel like I haven't changed much since I was 12 years old...
写真はやまけんとれいこさん。
そして彼らの新しい家族の一員かりんちゃん。
This is a picture of Yamaken, Reiko and their new family member, Karin.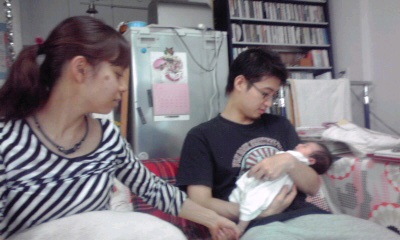 57時間という長期戦の後に生まれた尊い命。
Her labour took about 57 hours... Too long!
そして可愛い娘に既にメロメロの父。
And the father who is crazy about her.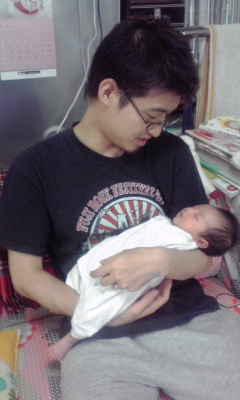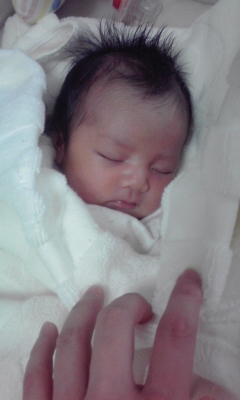 健やかに育ちますように。
Be happy and healthy.
箱入り (In the box)
2009.05.18 Monday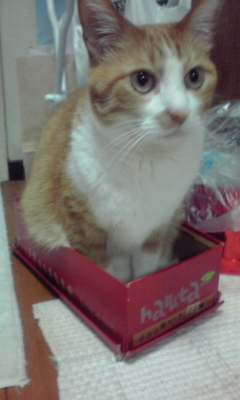 息子
小さいところに入るのが大好きなはんた。
でも、そこに収まらない時も多々あるわけです。
My first (spoilt) son, Hanta.
He just loves to be in a small place.
And a box is one of his favourite place too.
But that doesn't mean he can fit into it...
はんたです。 (This is my cat Hanta.)
2009.04.30 Thursday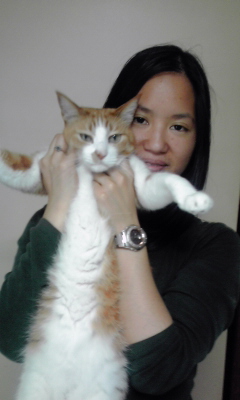 こんにちは!
愛猫のはんたと一緒に撮ってみました。
普段あまり抱っことかされないひねくれた猫なので
こうやって抱き上げたら脹れて変な顔をしています…。
かわいくないけど、かわいいやつです。
Hello everyone.
Took a picture with my cat Hanta.
(His name used to be "hunter" but these days we are calling him just "Hanta".)
Since nobody holds him at home usually he is not used to be held and gets quite crossed when he is held like this.
He is making such a ugly face as you can see.
He is not the prettiest cat you can find, but is the sweetest one for me.
優しいまなざし (Gentle gaze)
2009.04.20 Monday
元々男の人が赤ちゃんを大事そうに抱いていたり
子どもと楽しそうに遊んだりして
面倒をみている光景を見ているのが、すごく好きだった。
日本では中々見る機会がなかったけど
ヨーロッパに来てから、ぐんとそういう機会が増えた。
From quite early on, I really liked to see men looking after a baby or a child(/babies or children).
It was still not that common when I was in Japan to see such a scene in a public place but probably things are different these days.
Anyway, I had more occasions to see a man/father looking after the children since I came to Europe.
子どもにとって父親の役割は
やはりとても大事だと最近つくづく感じることが多々あった。
For children, both roles of mother and father are essential since they offer and contribute different things to children.
But for me, I was probably more in need of paternal care and that is why I was more interested.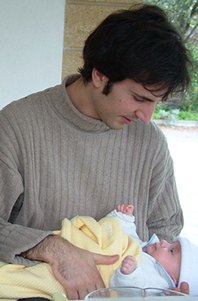 ハドリアンの子どもの面倒見の良さというか
惜しみない愛情のこもったまなざしで
子ども達に接しているのを見ていると
父性ってあるんだなぁと感じる。
The way Hadrien looks at children and the way he holds a baby or a child makes me strongly believe that there is paternal instinct in men.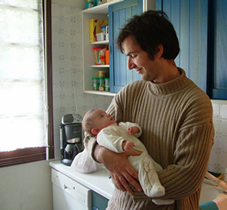 初めての薔薇とお料理中の人 (The first rose and a cooking man.)
2009.04.19 Sunday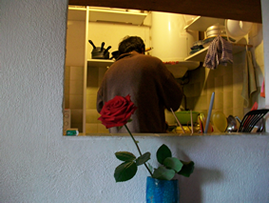 ふいに思いついたからと
仕事帰りに買ってきてくれた赤いバラ、木曜日の午後。
ご飯をつくってくれているうしろ姿。
He wasn't at all sure whether I was a kind of person who would like to receive a flower or not but he bought it for me anyway.
Relaxed Thursday afternoon, he cooked for me before the Aikido practice.
柄じゃないってよく言われ(思われて)るけど
花をもらうのは大好きです。
Actually, I really love receiving flowers, though some people might say that's not like me or my geeky character doesn't really give you a hint...
ありがとう。
Thank you.
1/1PAGES