郷 (Home)
2009.06.21 Sunday
残す滞在日数もあと4日になってしまった。
数年ぶりに日本の梅雨を体験できて
嫌なものであるはずなのに
なんとなく嬉しかったり
久々に会っても全然変わってない友人達を見てほっとしたり
友人達に家族が増えているのが自分のことのように幸せに感じられた。
相変わらずのすごい技術力がありながら
政治・経済・福祉・教育など問題を多く抱えていて
でも、やっぱりいいところもまだまだ沢山ある日本に滞在できて
ちょっと心配だけど誇らしいし、
嬉しかった。
ふるさとは遠きにありて思ふもの
そして悲しくうたふもの。
私にとって日本は本当にそんな感じのところだよなぁと思う。
別に悲しくうたったりはしないけど。
最近は沢山の日本人が世界中で頑張っているのをよく見かける。
自分もそういう人たちの1人になりたい。
日本にいなくても
国外から日本のためになる何かに貢献できるはずだと信じている。
私は外で頑張るから
日本の皆さんも日本のことをどうぞ宜しくお願いします。
I am leaving Japan for at least a year again in a few days.
It's been a while since I've experienced the rainy season (Tsuyu) in Japan last time.
I used to hate it when I was living in Tokyo.
But this time I was so happy with everything about Japanese that I quite enjoyed even the absurd humidity and depressing rainy days.
I was glad to see many of my friends who now have their new family members.
All the friends I met were same as I last saw them last year.
In fact, they haven't changed much since the middle school era when we first met and became friends.
But at the same time they are very different in many ways of course, and I am so glad to be able to embrace everything about them, goods and bads, new and old.
I would like to believe that the time we haven't been together hadn't done much damage to our friendship. Maybe it made it even stronger.
There are so many possibilities and so much potential in this country.
Especially after I worked in a factory during the stay, I could really see that the unique techniques and industrial technologies of this country are so much more impressive than I thought. But at the same time there are so many serious issues such as political incompetence, corruption, struggling economy, poor public welfare, and above all else, education.
Having said that, I am still quite hopeful about it all these...
Since Japan is pretty much in the process of evolution as a nation, I guess it is doing well and is quite healthy for a country to have both goods and bads.
Of course, we should try to decrease the number of bads though.
There is a poem of Muro Saisei.
"Home is where you reminisce when you are far away and sing with sorrow."
...This translated version which I found on wikipedia is... not quite the same as the real Japanese version, but anyway, for me Japan is definitely a place where I usually am far away from, and always consciously or subconsciously longing for.
But at the same time, it is a place where I cannot live for a long time.
At least, not for now, when I know my role for the moment is to absorb as much as possible from other parts of the world to be able to contribute to the society I belong to no matter where I am, and eventually to contribute to my home(s) directly or indirectly.
So, for those who are staying in Japan, thanks a lot for looking after one of my home countries so well.
Please keep the good work or make it even better if possible.
I will do what I have to do and what I can do as much as possible outside the border.
It is a massive global collaborative work after all.
イケメン論議 (Thoughts on good looking men)
2009.06.13 Saturday
日本に帰ってきて思ったのは
女の人が可愛くなっていること。
レベルが絶対に上がっている。
スタイルにおいても
ファッションセンスにおいても
お化粧の仕方においても。
このレベルの上がり方はかなりの急上昇と言えると思う。

なんていうか
みんな手を抜いていなくて
お金も時間も労力も結構費やして頑張って
日々磨きをかけている結果なんだろうな
と、すごく感心してしまう。
たまに出かけたりすると
街中可愛い子ばかりで本当にいい目の保養になる。
あんまりじっと見たら失礼だとわかりながら
ついつい見とれてしまうことが多々。

それに比べると
かっこいい男性って
まだまだ可愛い女子の比率にあっていないような気がする。

それでも徐々にかっこいい男子が増えているのも事実。

昔より目の大きめな彫りが適度に深い人が増えているし
背もすごく高くなっていてきている。
と、同時に韓流の影響で多少目が細くても
体をきちんと鍛えていて、何かしらの才能があったり
服のセンスに気を使っていたりで
(私のすごく個人的な、笑)総合評価を高めている人も増えている。

イケメン人口が増えるということで
昔はただただ格好が良いだけで
いい思いをしていた人が今よりも多かったと思うんだけど。
今はもう格好良いだけじゃモテないだろうから
イケメンにとっての過渡期なんじゃないだろうか
なんて勝手に思い始めている。

いいことだよな〜。
みんなが何気なく切磋琢磨して全体的なレベルが上がっていくのを
久々に日本に帰ってきたことによって実感できて
よかった〜。
多分ずっと日本にいたら
鈍感だから気付けなかったんじゃないかな。

中野坂上 (Nakano sakaue)
2009.06.03 Wednesday
On the way to Shinjuku, from my station,
there is a station called Nakano sakaue.
It is probably the closest station for Futagoyama beya.
So, if you are lucky,
you sometimes have nice surprise
such as this. ↓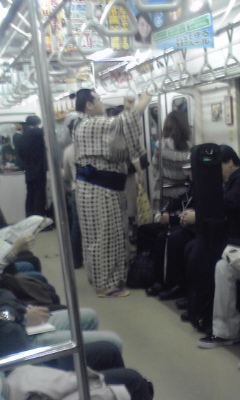 He looked quite relaxed, maybe it is right after the Natsu basho.
カラオケ (Karaoke)
2009.06.03 Wednesday
カラオケに行ってきました。
The other day, after the Indian flavoured Japanese pub,
we went to karaoke.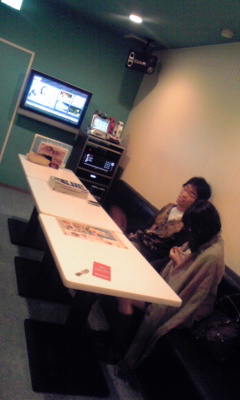 部屋
The karaoke room we used.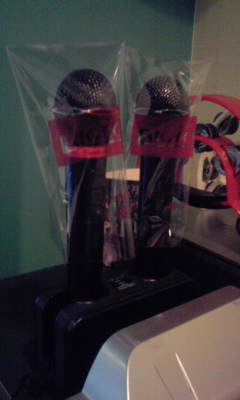 抗菌処理されたマイク
Microphones (antimicrobial-impregnated)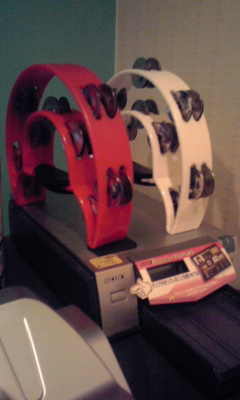 タンバリン
Tambourines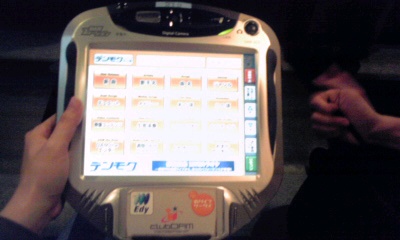 リモコン
Remote control for choosing songs and sending the data to the Karaoke set.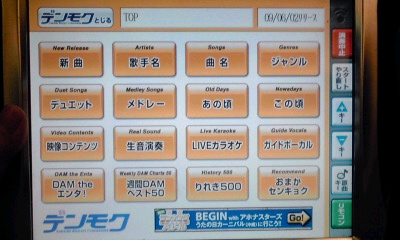 リモコン画面詳細。
The details of the display.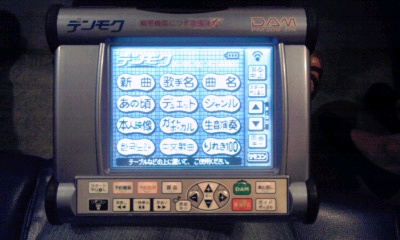 一昔前のリモコン。
Older version of remote control.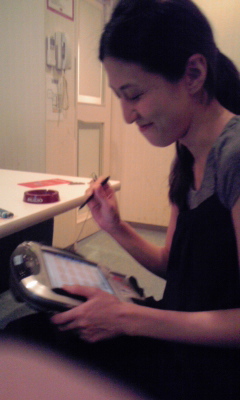 歌を選び、カラオケセットにデータを送り
You look for the song you want to sing, transmit the data to the set.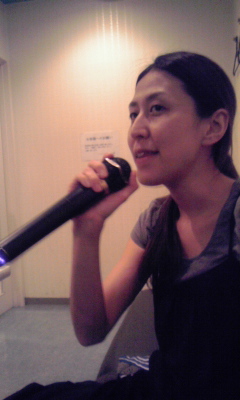 歌う。
Then sing.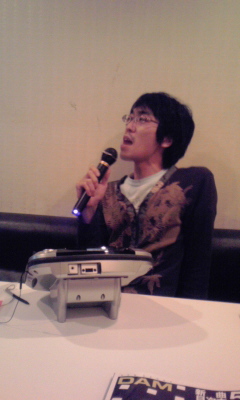 気持ち良さそうに歌う友。
Sing.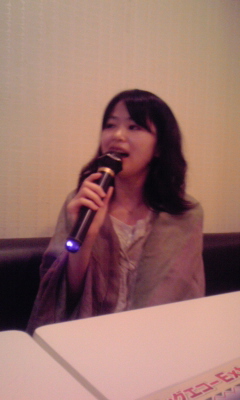 みきさんも歌う。
Sing.
そして歌ったら、次の曲を選ぶ、と。
Choose again and sing.
楽しかった〜。
It was so much fun!
居酒屋 (Izakaya)
2009.06.03 Wednesday
中学からの友人達と
安くて美味しいカレーが食べられるインド風居酒屋へ。
I went to a kind of Izakaya with a Indian cuisine...
It is a izakaya (Japanese pub) you can have curry and also Japanese food
which I think is very rare...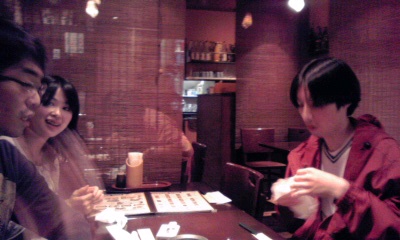 まったり。
Relaxing.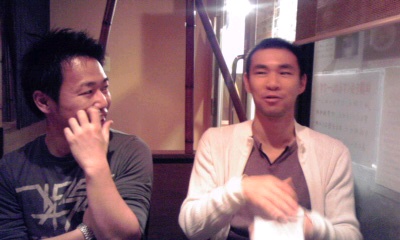 まったり。
Relaxing.
楽しい時間はまたあっという間に過ぎてしまいました。
I had a lot of fun with all these old friends of mine.
Time passes so quickly when I am with them.
サービス精神 (Esprit service)
2009.06.03 Wednesday
日本の消費者の要望に対する姿勢は本当に素晴らしい。
素晴らしい以外の何物でもない。
常に使いやすく、痒いところに手が届く
消費者が喜ぶ製品デザインを追及するその向上心とか本当に脱帽。
是非ヨーロッパの皆さんも参考にしていただきたい。
There are many problems when it comes to the attitude of shop clerks in Japan.
Most of the clerks are educated by the companies or shops,
to serve the customers to meet their needs and wants.
They always talk in the politest form of the language.
However, it doesn't mean that they actually mean to be polite
nor kind to you.
You can feel that it is done in such a way, because it is their job...
Anyway, what I wanted to talk today is
about the attitude of those people
who design the products and their packages.
The way they always try to make things easier to use,
more and more convenient, easier to recycle for the customers
is just amazing!!
I would really like many of the European countries to learn these ideas
and follow this trend.
そんな素晴らしい消費者のニーズを考えた商品の例として
今日はこれを取り上げてみました。
I picked this as an example of convenient package design.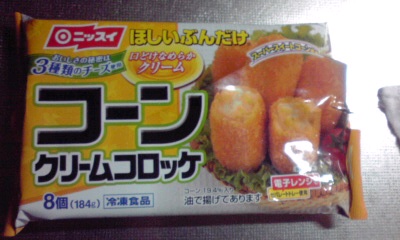 ただの冷凍食品じゃないかって?
まあ、それはそうなんですけど。
肝心なのはこの中身。
It looks like a normal frozen food to you?
Yes, it is. it's a packet of corn cream croquettes.
But what I want to show is not that...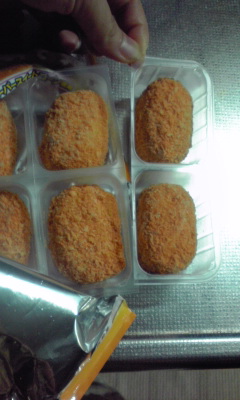 柔らかいクリームコロッケをただ袋や箱の中に入れたら
コロッケは移動の間にお互いの重さでつぶれて中身がでてきてしまったり
変形してしまったりするので
こうやって一つ一つをプラスチックのトレイに入れてあり
尚且つすごいのが
一つ一つがそれぞれ切り分けることが出来るんですよ!!
これすごいよ。
Each soft corn cream croquette is put in a little box
to keep the nice skin of the croquette and not to let it deform.
But the clever thing about this package design is that
you can make the little boxes separate!!
So that you can puc the croquettes in the little boxes
straight into the microwave and still keep other left-overs safely in the freezer.
日本人の皆さんはもはや当たり前すぎて何感動してるの?
って、思われるかもしれないけどね。
イギリスとかフランスとかイタリアってね
こんな気遣い考えられないよ。
これ、すっごく便利。
本当にありがとう、これ考えてくれたニッスイの人!
これからも益々こういうのを発案してください。
よろしくお願いします。
It might not look anything special at all to many Japanese,
but it is actually very very convenient and you may not understand
until you start using this.
I still haven't seen this kind of product in Europe.
Definitely not in England, not sure about Italy and France...
Anyway, thank you so much for the person who came up with this wonderful idea at Nissui!
Please keep up the good work!!
ユニクロ (UNIQLO)
2009.06.03 Wednesday
今日も
ユニクロ
はカラフルだった。
UNIQLO
était aux couleurs vives encore aujourd'hui.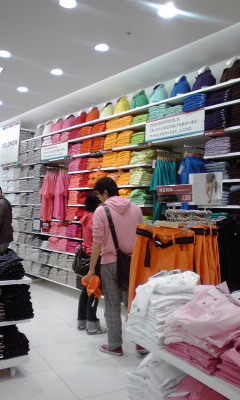 ユニクロ大好き。
Je l'aime très fort!
既に
このTシャツ
を購入して着てるんですが、
もう一枚、
これ
も買いたいな、とか思っています。
J'ai déjà acheté
ce T-shirt
, mais maintenant
je suis en train de acheter
celui-ci
...
でも本当は
これも
これも
これも
これも
これも
これも
これも
これも
全部欲しい!!
Mais, en fait, je veux acheter
t
o
o
o
o
o
o
o
o
ous ces T-shirts ici!!
誰か止めて!
Arretez moi!
たぬき
2009.05.30 Saturday
私の大好きな
純日本風(?)居酒屋。
京王永山にある「たぬき」。
メニューをじっくり見てたけど
結局決めたのはいつもと同じ。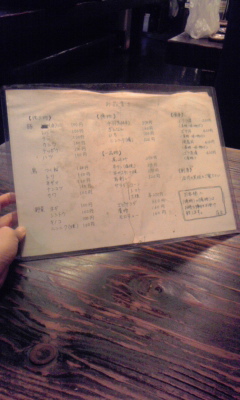 とりあえず、青リンゴサワー。
ここのは何でか知らないけどすごく美味しいんです。
そしてお刺身おまかせ盛り合わせ。
どれも新鮮で超美味。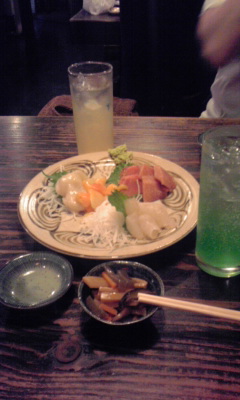 つづいて牛すじ煮込み。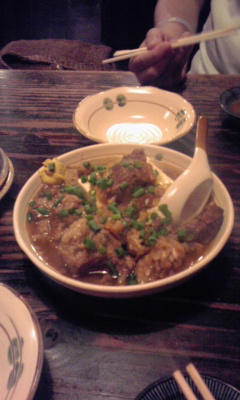 海老がプリプリ、海老サラダ!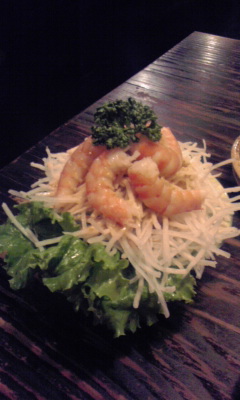 タレがたっぷりかかった手羽先のから揚げ。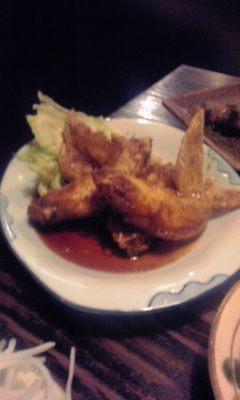 幸せな時間はあっという間に過ぎてしまう。
和泉さんありがとうございました〜。
抹茶ソフトクリーム (Green tea soft ice cream)
2009.05.18 Monday
新宿西口京王モールにあるお茶屋さんの
抹茶ソフトクリームは一年中、いつ食べても おいし〜。
There is a tea shop near the West side of Shinjuku station area.
And this place can offer one of the best matcha (Green tea) soft icecream in the world.
(Since there aren't many matcha soft icecream available in other countries,
it's easy to be one of the best in the world!)
But believe me, this really is one of the best you can get.
If you come to Tokyo with me,
I will definitely take you there to let you have a bit of a taste of Japan.
最高!
Just awesome!!
すずの音を聞きに (Listening to the sound of Bell.)
2009.05.18 Monday
先日、地元の友達シミズのおうちに遊びに行った。
シミズは中学の時からの友人で
今は一児の母。
去年一時帰国したときにも会ったけど、
1年経って一回り大きくなったシミズの娘さん、すずちゃんに会ってきた。
I paid a visit to one of my old friends from middle school era.
I call her Shimizu, which is her maiden name.
Now she is a mother of a one-year-and-a-half-old daughter, Suzu.
Suzu means bell in Japanese.
I met her last year about the same time.
But of course she has grown so much after a year.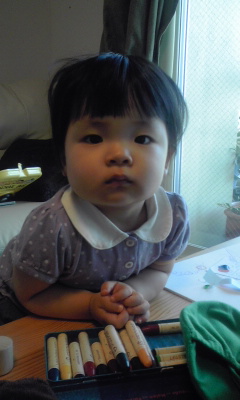 お絵描き中お邪魔しました。
Probably I was disturbing her quite a bit when she was drawing...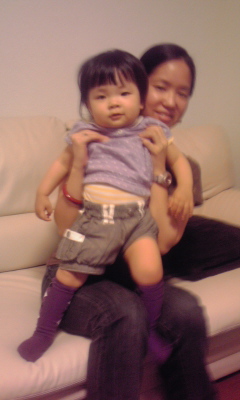 ご飯も食べ終わり、ご機嫌。
おなか出ちゃってますが、それもかわいい。
ほっぺたがつるーん、ぷにぷに。
After she had dinner, Suzu was so content.
And she eats a lot, you can see her quite big tummy, can't you?
Her cheaks are so soft and smooth.
「○○しちゃダメよ。」という否定的なコメントやエネルギーに敏感らしく
ちょっとでもそういう気配を感じるとご機嫌を損ね
すごいエネルギーを放出しながら泣いてしまうすずちゃん。
でも、その泣き顔すら愛おしい。
この年代独特の、何の心配もなく思い切り泣けるその無防備さが愛くるしいというか。
She is very sensitive to negative comments and denial since her parents don't really tell her not to do things or stop her from doing things.
So when I told her she may not play with my ball point pen without my permission, she started crying very loudly.
But I realized that even when she was crying, she was still so cute and sweet.
I love the defenselessness and vulnerbility of the children of this age group.
They are just so open and they expose all sorts of feelings without any fear.
Which is something that we, adults, can't do anymore as we grow older.
Maybe that it what "growing" means.
のんびり、まったり、愛情たっぷりに育てられているのがよくわかりました。
これからもすくすく健やかに育ちますように。
Listening to the sound of Bell,
I could see that she is raised with lots of love and affection.
I hope this will continue.